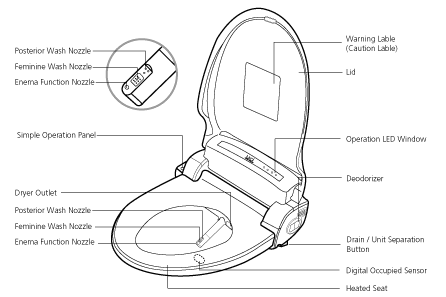 Does Supreme Bidet Seat require electricity?
The BB1000 & BB800 both require a mains electrical supply. The electrical supply must be installed by a qualified electrician in accordance with BS 7671:2011 17th edition wiring regulations.
How do you get a warm water supply?
The Bio Bidet Seats connect to a cold water supply, usually from the toilet cistern. They have a built in water tank which pre-heats the water, ready for use.
The water temperature and pressure is electronically regulated for a controlled and consistent flow.
Is a professional plumber recommended for installation?
A competent person can connect the water supply to the bidet without the need for a plumber.
The Bio Bidet comes complete with plumbing fittings to enable installation, however if you have any doubt please contact us or seek advice from a plumber.
Is it going to fit my toilet?
Please click here to go to the page 'Will it fit?' for full detail
Can the Bio Bidet be used with a shower chair?
Yes with a compatible Freeway shower chair, (modified T40). Please ask for details.